Alexander Gafin to Head WATCH Russia
September ′2013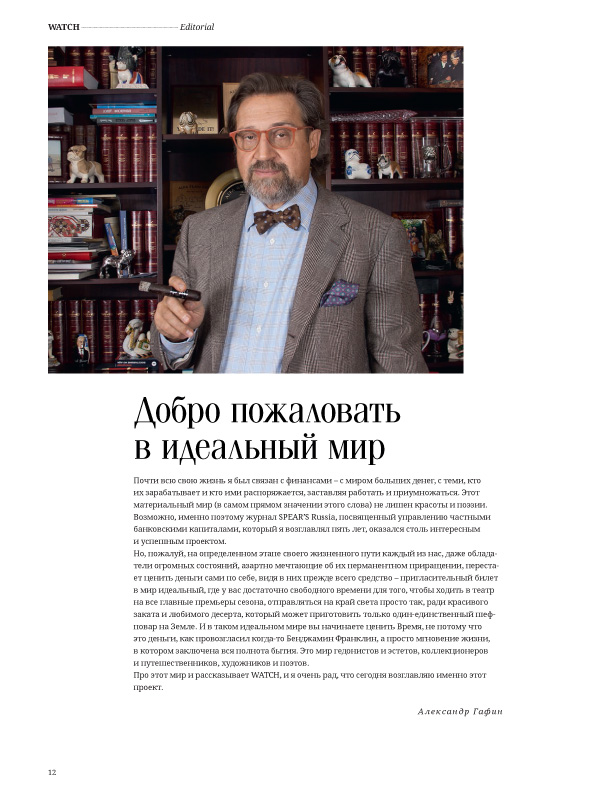 Alexander Gafin, one of the most prominent and recognized personalities of the marketing and PR industry in Russia, has taken over the WATCH Russia project. Prior to that, he headed SPEAR'S Russia as Editor-in-Chief for five years.
Commenting on his move, Gafin said that at a certain stage in life even the owners of large fortunes cease to value the money in and of itself, but see it as primarily a means to an end – a ticket to an ideal world. "A world where you have enough free time to attend every major theater premiere of the season, to go to the ends of the earth just for a beautiful sunset, and a favorite dessert that can only be prepared by one chef in the world," says Gafin. "And in such a perfect world, you begin to value time not because it is money, as Benjamin Franklin once famously declared, but because it's a moment of life, which contains the full complexity of existence. This is the world of aesthetes and hedonists, collectors and travelers, artists and poets. This is the world that WATCH features, and I am extremely pleased to be heading this particular project."
WATCH Russia is dedicated to the high art of watch and jewellery making, as well as to "the signs of the times" – cinema and theater, architecture and design – presenting a medley of the most important events and names in the world of culture over the previous month.
Creative and commercial management of the project is provided by MEDIACRAT.