SPEAR'S Russia Releases Special Issue on Philanthropy
April ′2014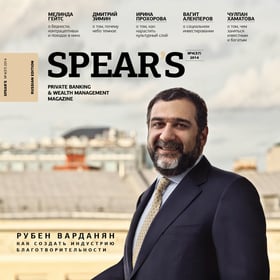 SPEAR'S Russia magazine has expanded the list of its regular topics, adding charity, philanthropy, patronage of arts, and social entrepreneurship. The April issue features a new section that contains interviews with Ruben Vardanian, Irina Prokhorova, Vagit Alekperov, and Dmitry Zimin, and talks about all the most important private and corporate philanthropic initiatives in Russia today.
"At the magazine, we have long kept this topic on the sidelines, in the periphery of our vision, so to speak. Now, I hope it will become as important for us as wealth management itself. Because 'how to make money' and 'how to keep money' are two questions that many people have already largely found the answers to. What we want to talk about is how to use what you have, how to turn it prolific, and how to change the world around us, even if only a little," offers Andrei Vdovin, Editor-in-Chief of SPEAR'S Russia, in his opening remarks.
SPEAR'S Russia is the Russian language version of its British namesake, the most trsutworthy and influential magazine for the world's richest audience.
Creative and commercial management of the project is provided by MEDIACRAT.